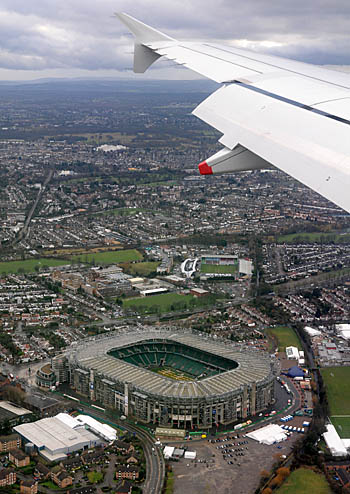 Autobus był już załadowany pasażerami, którzy właśnie wylądowali na Heathrow i miał odjeżdżać w kierunku terminala londyńskiego lotniska. W ostatniej chwili do pojazdu wskoczył łysiejący pan w okolicach pięćdziesiątki w eskorcie młodego angielskiego stewarda. – Mówicie i po polsku, i po angielsku? – zwrócił się pracownik British Airways do znajdujących się pod ręka dziewczyny i chłopaka, wyglądających na parkę. Pokiwali głową pewni siebie. Uradowany steward zaczął im tłumaczyć, że starszy pan wyraźnie potrzebuje pomocy w jakiejś sprawie, ale na drodze stanęła bariera językowa. Chodziło o banalną kwestię – gdzie ma się udać, jeśli Londyn to nie jest jego miejsce docelowe. Ale jako że Anglik tego nie wiedział, zapewne po dramaturgii bijącej z twarzy tego pana, pomyślał, że to problem wagi wylądowania na złym kontynencie.
Młodzi przetłumaczyli, o co chodzi i koniec historii. No, niestety nie… Zamiast tego, ku zaskoczeniu Anglika, chłopak i dziewczyna zamarli. Stanęli jak wryci, po czym wymienili się niepewnymi spojrzeniami, z których dało się odczytać dwa słowa: ale wpadka. Wtedy do akcji włączyła się starsza pani, przyglądająca się wcześniej monologowi stewarda z boku. Zamieniła kilka słów z blisko swoim rówieśnikiem, potem z Anglikiem i ośmieszyła młodzież. Tak właśnie z angielskim radzą sobie nierzadko nasi rodacy za granicą. Niby każdy umie, każdy gra kozaka i szyderczo wyśmiewa się, jak inny nie potrafi się wysłowić, a jak co do czego, to pozostaje jedynie tępe spojrzenie. No ale nie wypadało się przyznać.
– Ja też się tu tylko przesiadam, więc możemy razem iść dalej. Gdzie pan leci? – zaczepiłam starszego pana zaraz po wyjściu z autobusu. – Do Chicago – odparł ze wschodnim akcentem. – To w tym samym kierunku, bo ja do Filadelfii – powiedziałam. – Dzięki za pomoc. Władimir jestem. Jak Kliczko. Po polsku Włodek. Jestem z Ukrainy – przedstawił się. – Paula. We wszystkich językach Paula – uśmiechnęłam się. To ciekawe, że żadna inna nacja nie ma takich problemów z moim imieniem jak moi rodacy. W Polsce niejeden już przechrzcił mnie na Paulinę. I, co gorsza, nie chciał przyjąć do wiadomości, że to dwa zupełnie różne imiona.
Włodek okazał się bardzo miłym i rozmownym facetem o mentalności Amerykanina. Lubił opowiadać o sobie. Przez kilka lat robił meble w Polsce, więc nieźle radził sobie z naszym językiem. Urodził się we Lwowie. – Piękne miasto, taki mały Kraków – zachwalał. Jego brat i mama mieszkają w USA. Ojciec nie żyje. – Na Ukrainie ludzie marzą o pracy w Polsce. A Stany Zjednoczone to już w ogóle… Synonim lepszego życia, ale dla obywatela Ukrainy bardzo ciężko jest dostać wizę. Bratu się udało, bo był świetnym tancerzem. Teraz uczy tańca amerykańskie dzieci – opowiadał. Włodek leciał ich tylko odwiedzić.
Ożywił się (o ile było to jeszcze bardziej możliwe), kiedy padło hasło EURO 2012. – Grupę mamy ciężką, a drużyna nie gra ostatnio najlepiej, ale będziemy walczyć! – zapewnił. Współgospodarze trafili na Szwecję, Anglię i Francję, ale, słuchając Włodka, nie za bardzo się tym przejmują. – Piłka piłką, ale dla nas to przede wszystkim niesamowita szansa pokazania się Europie jako kraj cywilizowany. Nie jest tak jest myśli Zachód, że na Ukrainie to tylko głód i ubóstwo. Naprawdę państwo szybko się rozwija, choć, jak wiadomo, jest jeszcze wiele niedociągnięć. Nie wydaję mi się jednak, żebyśmy wypadli gorzej niż Polska. Podobno u was też dużo opóźnień! – trafił w sedno.
Najbardziej jednak z Włodka biło to przywiązanie do zespołu narodowego. I nie chodzi tu o ślepy patriotyzm. Tylko o wiarę i dumę z własnej drużyny, utożsamianie się z nią. To poczucie, że to jedni z nas. To właśnie zanika u nas i to jest największym niebezpieczeństwem w naszym kraju. Dzisiejsza reprezentacja Polski to bardziej szydera niż powaga. Ale nie może to dziwić. Jak tu utożsamiać się z kadrą, którą ogląda się raz na ruski rok, która jest bardziej strzeżona i niedostępna niż Barack Obama i w której w dodatku grają ludzie, do których strach powiedzieć "cześć", bo nie wiadomo, czy nie odbiorą tego jako obelgę. Dlatego tak miło słuchało się Włodka z Ukrainy. On naprawdę czuł się częścią drużyny narodowej i świadkiem czegoś wielkiego, co będzie miało miejsce u niego w domu za trzy miesiące…

Na zdjęciu: widok na Londyn z samolotu. Nie mam pojęcia, co to za stadion…