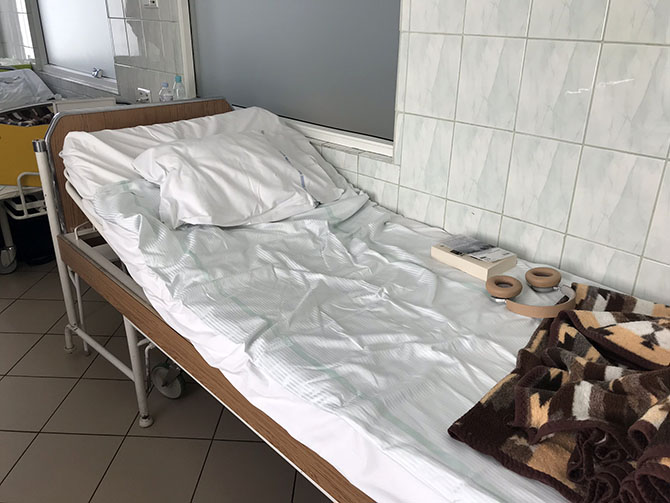 Zastanawialiście się kiedyś, jakby to było, gdybyście wygrali miliony w totolotka? Albo jakby jutro miał nastąpić koniec świata? A jakbyście usłyszeli, że… macie nowotwór?
To wszystko działo się błyskawicznie. Miałam podkręcić treningi. Pod koniec czerwca czekała mnie próba na Mont Blanc. Ale od dłuższego czasu doskwierały mi bóle brzucha. Zdarzało się, że przez to nie dokończałam treningów. Realizowałam założenia trenera, a nie widziałam efektów. Nie mogłam nic zejść na wadze. Czułam, że coś jest ze mną nie tak. Bałam się problemów w górach. Musiałam być przecież na sto procent zdrowa. Dobra, skończą się mecze, to pójdę się przebadać.
I poszłam. Jeden lekarz. Skierowanie. Drugi lekarz. USG. Coś widzi. Skierowanie do następnego. Kolejne badanie. No coś tam jest. No może guz. Chyba jelita. Potrzebna szczegółowa diagnostyka.
Państwowo? Na USG brzucha nie ma już terminu w tym roku. O rezonans nawet nie pytałam. Trzeba było wyłożyć hajs i wszystko przyspieszyć. Po badaniu endoskopowym wybudziłam się z narkozy z takim bólem, że przestraszyłam całą załogę gabinetu, która ponoć nigdy czegoś takiego nie widziała. Dodatkowo straciłam władzę w palcach u rąk. Ale to zapewne było spowodowane wypłukaniem organizmu ze wszelkich witamin. Zostałam odwieziona karetką do szpitala. Działo się to w dniu meczu Polski z Senegalem.
To coś znajduje się jednak na jajniku. Może spróbujemy antybiotykami najpierw. Trzech lekarzy i oni nie wiedzą. Albo wiedzą, ale nie chcą mówić. "Poczekajmy", "bez nerwowych ruchów", "może to tylko torbiel", "może stan zapalny". Nikt nic nie potrafi powiedzieć wprost. Zbadał czwarty. Najmłodszy. Od razu wyczułam, że to gość, z którym będzie można w końcu szczerze pogadać. - Proszę pani, ma pani guza wielkości 9 cm. Główka dziecka ma 10. Nieładnie to wygląda - nie zawiódł mnie.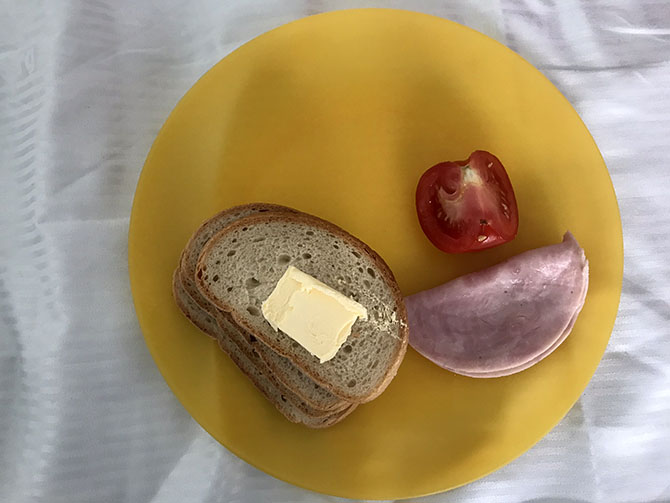 Podano do stołu! Kolacja.
Co ja na to? No cóż, takie jest życie. Jednego dnia pakujesz się na Mont Blanc, drugiego dowiadujesz, że chyba jednak nie wyjdziesz tak szybko ze szpitala. Ciągle słyszę, że muszę zwolnić, odpocząć, odłożyć trochę pieniędzy. Ale ja je odkładam. Na wyjazdy. Kiedy mam to robić, jeśli nie teraz? Kiedy jestem młoda i zdrowa? Nigdy nie wiesz, co będzie jutro. Jest dzisiaj. Tu i teraz. A co, jeśli jutra nie będzie? Będziesz zadowolony ze swojego dotychczasowego życia? Będziesz czegoś żałować? Takie pytania sobie stawiałam.
Z planów ponoć Pan Bóg się śmieje.
Wypisali mnie. Kilka dni później trafiłam do innego szpitala. Kolejne badania i wyznaczenie terminu operacji. GASTROSKOPIA. To odpowiem, jak mnie ktoś kiedyś zapyta o najgorsze przeżycie w życiu. To powinno się robić pod pełną narkozą! Myślałam, że ta rurka, która wciskają ci przez przełyk do jamy brzusznej, jest malutka, a tymczasem, gdy ją zobaczyłam… - No chyba pani żartuje - powiedziałam. Nie żartowała. Jak wróciłam po badaniu, to koleżanka z sali stwierdziła, że wyglądałam jak trup. Nigdy nie byłam tak przerażona. Nigdy. Rozpłakałam się jak dziecko.
Szpitalny dzień zaczyna się około godziny 6:00. Najpierw jest… strzał z broni krótkiej. Ledwo otwierasz oczy i widzisz skierowaną ku twojemu czołu lufę. Tak nazywałam poranne mierzenie temperatury. A nie! Przepraszam. W kieleckim szpitalu przy ul. Kościuszki dzień zaczynał się o 5:30 wejściem… księdza. No ja wszystko rozumiem, ale o 5:30 rano?! Wszyscy śpią, a ten pyta, czy ktoś do komunii albo spowiedzi. W końcu chciałam coś dobitnie powiedzieć, ale nadeszła sobota. A sobota okazała się od duchownych wolna.
Potem wjeżdża pielęgniarka z wózkiem. Popcorn, hot dog, kukurydza! A raczej: kroplówka, zastrzyk, tableteczka! Full serwis. W pierwszym szpitalu dostawałam trzy razy dziennie strzał w żyłę i dwa razy dziennie kroplówkę. Z pielęgniarkami przydawało się mieć dobre relacje. W końcu to z nimi się na co dzień najwięcej obcowało. Dobre kontakty oznaczały, na przykład, większą szansę na dobrze wkłuty wenflon. Najlepiej wspominam Panią Beatkę. Raz zobaczyła, że czytam biografię Jerzego Kukuczki i zaczęła opowiadać o swoim synu, który wspiął się na Denali i Pik Lenina, a teraz wybiera się na swój pierwszy ośmiotysięcznik - Czo Oju. Wow! Pani Beata powinna odpoczywać już na zasłużonej emeryturze. Ale… dyrekcja szpitala poprosiła ją o kontynuowanie pracy, bo nie ma ludzi. A ona tę pracę lubi, więc nie odmówiła. Trafiłam na taką naprawdę z powołania.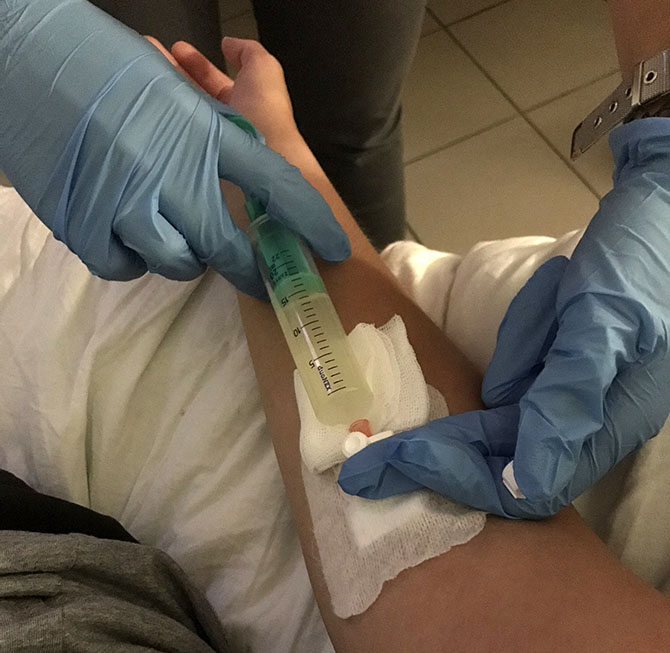 Szybki strzał.
Zdarzały się też inne, mniej "powołane", czyli bardziej obojętne. Raz kobitka zamontowała mi kroplówkę, a ja usnęłam. Kiedy się obudziłam, oczywiście się skończyła, ale nikt nie raczył mnie z niej uwolnić. Wstać nie byłam w stanie. Sięgnąć po pilocik z opcją wzywania pomocy również. Krzyknęłam więc na całą salę, żeby ktoś nacisnął guziczek. W końcu przyszła. "Oj, przepraszam, zapomniałam". Innym razem miejsce wkłucia wenflonu całkiem mi zsiniało i zaczęło boleć. Nie zauważył tego nikt, a przecież codziennie po kilka razy tej żyły używali. Dopiero kiedy, zapytałam, to okazało się, że "no tak, trzeba go jak najszybciej zmienić". Musisz się o wszystko upomnieć.
W dniu operacji, czyli 6 lipca najbardziej martwiło mnie to, że… nie obejrzę ćwierćfinału mistrzostw świata Brazylia - Belgia. Nie bałam się. Serio. Wiedziałam, że odzyskam świadomość, jak będzie już po wszystkim. I tylko, żeby na mecz nie zaspać… Sytuacja była o tyle nieciekawa, że na sali pooperacyjnej nie było telewizora. Brakowało także WiFi. Z pomocą pospieszył kolega, Ajron, który przytargał mi router ze wszystkimi kablami, za co mu ogromnie dziękuję. Dzień wcześniej ustaliłam z pielęgniarką, że będę mogła obejrzeć mecz, tłumacząc, że nieoglądanie go może się bardzo niekorzystnie odbić na moim zdrowiu (mówiłam, że warto mieć z nimi dobre relacje!)
Uśpili mnie około 7:30. Przytomność zaczynałam odzyskiwać jakoś po 13:00. Z tym że według relacji świadków, budziłam się tylko po to, żeby zapytać, która jest godzina. Nie chciałam przespać meczu! I obejrzałam go, ale… na totalnej nieświadomce. To znaczy pamiętam coś tam, ale to raczej szczątki. Może to i lepiej, biorąc pod uwagę wynik. Pamiętam za to, że przyszedł do mnie profesor i powiedział "wróciliśmy z dalekiej podróży". A później kolejny lekarz, asystujący przy operacji. "Miała pani dużo szczęścia".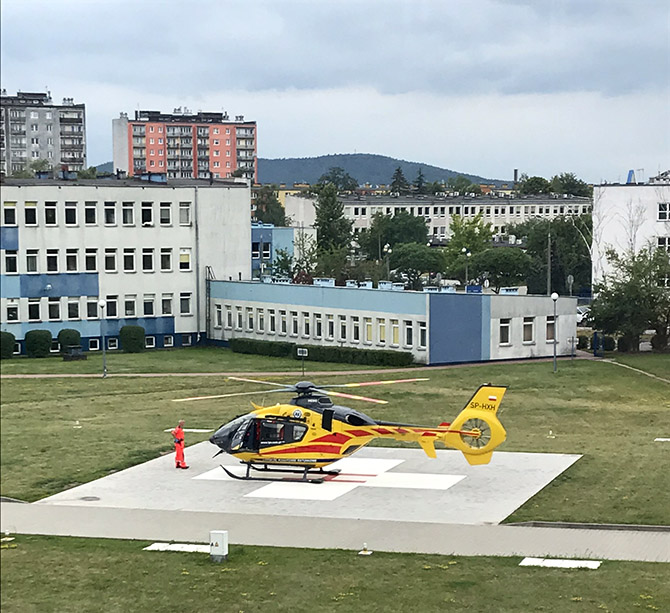 Przynajmniej z okna był fajny widok.
Idąc na operację, nie wiedziałam, co zostanie zrobione. Bo do końca nie było wiadomo, z czym mamy do czynienia. Nie mieli pojęcia, co tam w środku zastaną, co wytną i czy w ogóle coś będą mogli wyciąć. O moim typie guza nie ma nawet nic w internecie. Taki wyjątkowy był. - Nie był rzadki. Był ultrarzadki - mówili. Jak go zobaczyli, spodziewali się najgorszego. Pobrali wycinek, który natychmiast pojechał karetką do laboratorium do wstępnego rozpoznania. Tzw. badanie śródoperacyjne. Ja cały czas leżałam nieprzytomna na stole. Okazało się, że nie jest tak źle, jak przypuszczali i zdecydowali się ciąć. Dodatkowo musiałam dostać krew, bo bardzo dużo jej straciłam. Później śmiałam się, że do mnie wróciła. Wcześniej kilka razy oddawałam.
Zaraz po ocknięciu się nie czułam nic. Żadnego bólu. Nawet nie rzygałam po narkozie, co się często zdarza. Krytyczny był dzień drugi, kiedy pomału schodziły wszystkie znieczulenia. Trzeciego dnia postanowiłam samodzielnie wstać. Zajęło mi to z godzinę. Nie jest łatwo się podnieść bez użycia mięśni brzucha. Dawno nic mnie tak nie ucieszyło, kiedy odkryłam, że chodzę. Czułam się, jakbym uczyła się tego na nowo. Dziwne uczucie. I tak sobie chodziłam. Każdego dnia coraz więcej. Od łóżka do okna i z powrotem. Dziś, 3 tygodnie po operacji, czuję się w miarę dobrze. Nadal jestem mocno osłabiona i wypłukana z witamin. Trochę zejdzie zanim będę mogła znów biegać itd. Ale… szukam plusów.
Z jednej strony w sekundzie posypały się wszystkie moje plany. Straciłam i wciąż tracę całe lato. Ale przynajmniej książki nadrobię i niemal cały mundial obejrzałam. W czasie fazy grupowej jak zaczynałam oglądać o 14:00, to o 22:00 kończyłam. Koleżanki z sali? Zwykle nie miały nic przeciwko. W końcu to ja płaciłam za telewizor ;). Raz trafiłam na taką, która gadała przez sen, wierciła się, gestykulowała, a dodatkowo chrapała tak, że umarłego by obudziła. Bałyśmy się, że zaraz zacznie lunatykować. Inna co rano narzekała, że nie mogła spać, a hitem było, jak jednego poranka całą winę zwaliła na… księżyc. Bo za jasny był. Bo zupa była za słona. Cały przekrój społeczeństwa.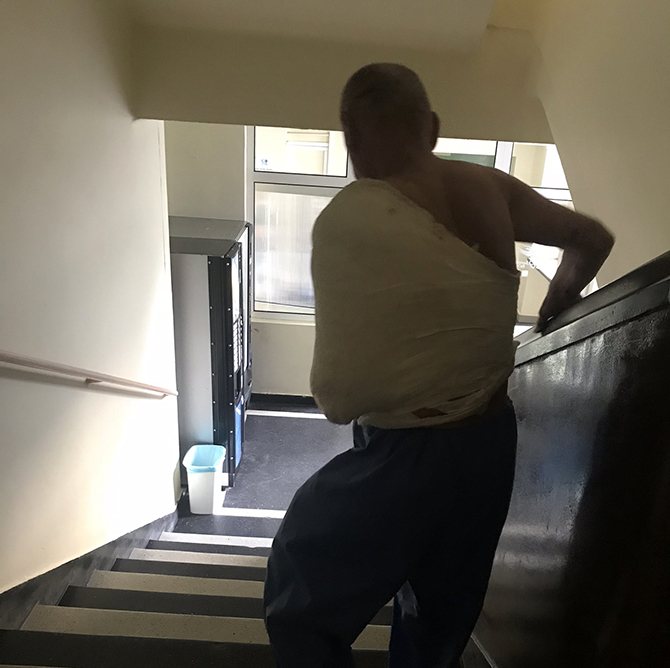 A po sąsiedzku była ortopedia.
Nie będę Wam prawić banałów w stylu "badajcie się" ani "dbajcie o siebie". Każdy ma swój mózg. Powiem Wam tylko tyle, że wcześniej dwóch lekarzy nie zauważyło nic niepokojącego. Badania krwi robiłam regularnie i wychodziły idealnie. Honorowo oddawałam krew. Jestem w bazie dawców szpiku. Kilka miesięcy przed operacją kobitka w punkcie pobrań powiedziała mi: "ma pani za dobre wyniki, żeby być na coś chora".
Ale wiecie, co w tym wszystkim było najbardziej niesamowite? Ludzie. W takich sytuacjach człowiek najlepiej poznaje, na kogo może liczyć, a na kogo nie. Dlatego - mimo że wiem, że to nudne i sztampowe - to muszę napisać kilka podziękowań.
Dziękuję Panu Profesorowi, który to wszystko ogarnął, wyciął i idealnie zaszył, do czego jednak nie chce się przyznać ;). Moim rodzicom, którzy regularnie przywozili mi jedzenie, bo to szpitalne nie nadawało się nawet dla psa. Panom doktorom Bogusiowi i Arturowi za pomoc i poświęcony czas. Mateuszowi, który mnie regularnie odwiedzał. Ekipie Korony Kielce za piękny list i niespodziankę, a szczególnie za poduszkę, która później bardzo ułatwiła mi życie. Siejowi, Matiemu i Długiemu, którzy przyjechali do szpitala prosto z mistrzostw świata w Rosji. Całej załodze PZPN, a w szczególności Natalii, Łukaszowi i Renatce za pofatygowanie się do Kielc z Warszawy. Mojemu trenerowi Karolowi za filmik z Tatr oraz wsparcie (FormaNaSzczyt.pl!). Zosi, która nagrała mi filmik instruktażowy pt. jak ćwiczyć bliznę. Lewanowi za porady. Kubie za odwiedziny i książkę Rafała Froni. Maćkowi, który przysłał mi koszulkę reprezentacji Dani z EURO do lat 21. Dziękuję wszystkim, którzy mnie odwiedzili czy to w szpitalu, czy już w domu oraz przez cały czas wspierali i wspierają w tym wszystkim.
Wrócę!