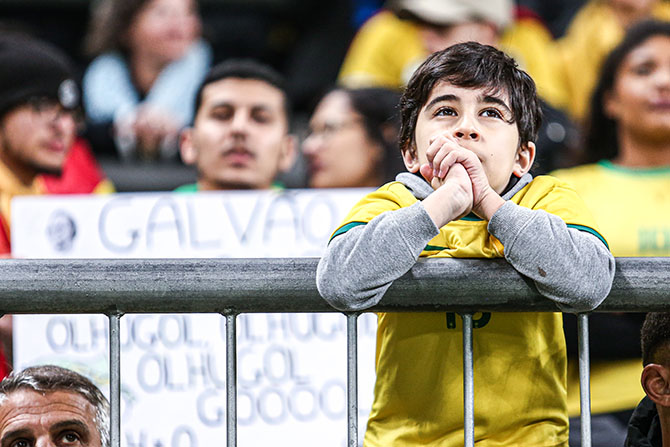 – Popraw mnie, jeśli się mylę, ale Brazylijczycy nie żyją jakoś mocno Copa America, nie? – zagadnęłam kelnera w knajpie w centrum Porto Alegre. – Zgadza się. Są wkurzeni na swoją reprezentację za ostatnie niepowodzenia, a druga sprawa to bardzo wysokie ceny biletów na mecze – odpowiedział. – Potrzebujesz jakichś informacji na temat miasta? Dokąd warto iść, co zobaczyć?
Nie potrzebowałam. Szwendałam się po najdalej na południe wysuniętym większym mieście w Brazylii od trzech dni. Tak naprawdę niewiele jest tu do zobaczenia. Porto Alegre jest mocno zaniedbane i brudne. Widać jakieś nieśmiałe próby modernizacji. W remoncie jest lotnisko. Przy rzece zrobione boiska do plażówki, place zabaw, ławeczki. Sto metrów dalej jednak znajduje się niekontrolowane wysypisko śmieci. Na plaży. W którym taplają się dzikie ptaki. Przykry widok.
Bezpiecznie tu w miarę?
Turyści należą tu do rzadkości. Kto, lecąc do Brazylii, odwiedza Porto Alegre? Niby jest tu dzielnica opisana jako centro historico. W niej też mieszkałam. Szybko się przekonałam jednak, że nazwa "historico" ogranicza się jedynie do bardzo starych budynków w stylu kolonialnym, które wyglądają jakby zaraz miały runąć. Widok nie zachęca do dalszego spaceru, podobnie jak okolica mojego hotelu. Szczerze to nawet dwa razy pomyślałam, zanim sama opuściłam jego mury. Z okna widziałam drobnych handlarzy wszystkiego, co dusza zapragnie, od "markowych" zegarków poprzez czapki z daszkiem a na biżuterii skończywszy. Po sąsiedzku miałam dworzec autobusowy. A wiadomo jak to przy dworcu – bezdomni, żebrzący etc.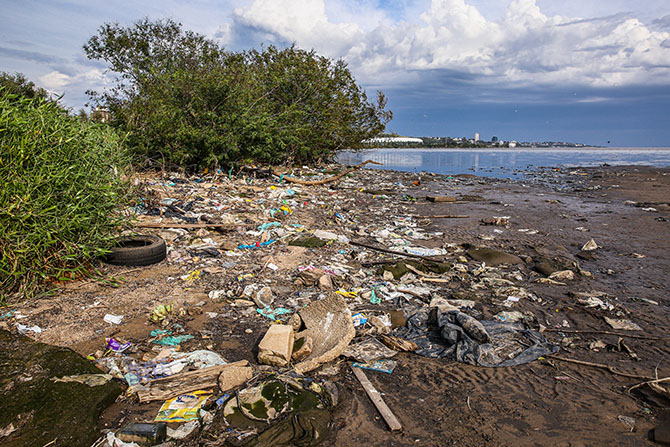 Wysypisko śmieci u wybrzeży rzeki Guaiby w Porto Alegre
– Bezpiecznie tu w miarę? – wolałam zasięgnąć opinii u mojego kolegi, Juniora, który jest z Porto Alegre, ale dużo pracuje i nie mógł mi towarzyszyć. – Wiesz, w ciągu dnia tak. Bezpieczniej niż w Rio. Ale wróć lepiej przed zachodem słońca – zalecił. Wyszłam, ale nie afiszowałam się z wielką lustrzanką. Jak w całej Ameryce Południowej – trzeba po prostu być czujnym na każdym kroku. Na próżno szukałam murali związanych z Ronaldinho, który stąd przecież pochodzi. Dla odmiany w Rio de Janeiro takiej ulicznej sztuki piłkarskiej jest bardzo dużo, a niektóre to prawdziwe arcydzieła.
"Skupiamy się na tym, co złe"
Jest dzień ćwierćfinału Copa America. O 21:30 gospodarze, Brazylijczycy, zagrają na Arenie Gremio z Paragwajem. Na ulicy nie widać kibiców żadnej z drużyn. Nie ma śpiewów. Ze świecą także szukać w ogóle osób w kanarkowych koszulkach. W telewizji więcej uwagi poświęca się… pogodzie. W Europie rekordowe upały, a tu przymrozki. Pokazują zdjęcia porannego szronu. W tej części Brazylii zimą to jednak dość normalne. Ale temperatury tu są jak rollercoaster. Rano 7 stopni, w południe już 18. A na drugi dzień 25.
W reprezentację Canarinhos mało kto wierzy. – Brak sukcesów to jedno. Poza tym ludzie są wkurzeni, że trener daje tak mało szans zawodnikom z naszej ligi. Dla Brazylijczyków to bardzo ważne. – tłumaczy mi Junior. Przeciwko Paragwajowi w pierwszym składzie wybiegł jednak Everton, piłkarz lokalnego Gremio, za co zebrał największą owację. Nie oklaskiwano najgłośniej gwiazd zespołu – Coutinho czy Roberto Firmino, ale właśnie Evertona, który mógł liczyć na wsparcie przy każdym kontakcie z piłką.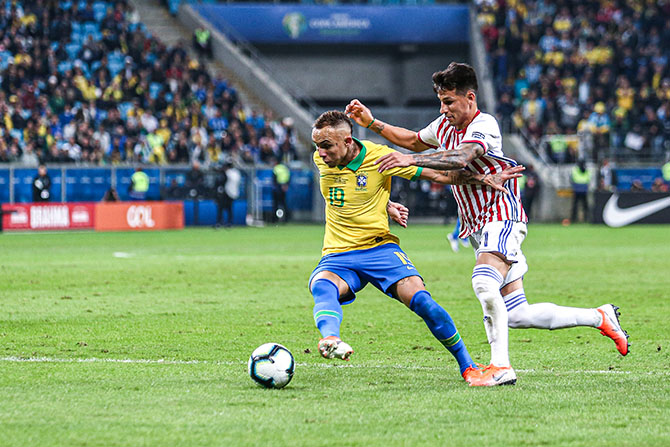 Piłkarz Gremio Porto Alegre, Everton Soares, w meczu z Paragwajem
Selekcjoner reprezentacji Brazylii ma wyjątkowo ciężkie życie. Presja i oczekiwania wobec Selecao w kraju pięciokrotnych mistrzów świata są szczególnie duże. – Jeśli Tite nie wygra pucharu, federacja musi go zwolnić – mówi Junior. – Powiem ci jeszcze jedną zabawną rzecz – w ostatnim spotkaniu grupowym Copa wygraliśmy aż 5:0 z Peru, a wiesz o czym się później mówiło najwięcej? O tym, że Gabiel Jesus nie wykorzystał karnego. Skupiamy się na tym, co złe, nie doceniając tego dobrego – dodaje.
Copa America czy mundial kobiet?
Na co dzień Junior jest fanem Gremio Porto Alegre. "Gremista" – przedstawia się. Ale na ćwierćfinał najważniejszego turnieju w Ameryce Południowej z udziałem swojej reprezentacji i to we własnym mieście nie idzie. Nie stać go. Bilety kosztują średnio 400 reali (ok. 396 zł). Pensja minimalna w Brazylii to 900 reali (ok. 892 zł). Dlatego stadiony nie są pełne, a wręcz na meczach innych drużyn niż gospodarzy świecą pustkami. Na Arenie Gremio w czwartkowy chłodny wieczór też nie było kompletu. Obiekt mieści 60 tys. osób. Przyszło 45.
Równolegle z Copa America trwają mistrzostwa świata kobiet we Francji. Przed starciem Brazylii z Paragwajem kobieca kadra odpadła już z turnieju po przegranej w 1/8 finału z gospodyniami, Francuzkami. – Jak ogląda się reprezentacja kobiet? – pytam Juniora. – Wcale nie gorzej niż Copa America, a kto wie, czy nie lepiej w tym momencie. Brazylijska federacja nie wspiera odpowiednio drużyny kobiet, bo nie przynosi takich profitów jak mężczyźni. Ale dziewczyny są bardzo dzielne i w kraju mają u ludzi dużo wsparcia za to, że radzą sobie tak dobrze bez ogromnych pieniędzy i sponsorów. Jak mnie teraz zapytasz, czy wołałbym obejrzeć mecz kobiet, czy mężczyzn, to zdecydowanie wygrają kobiety – nie ukrywa.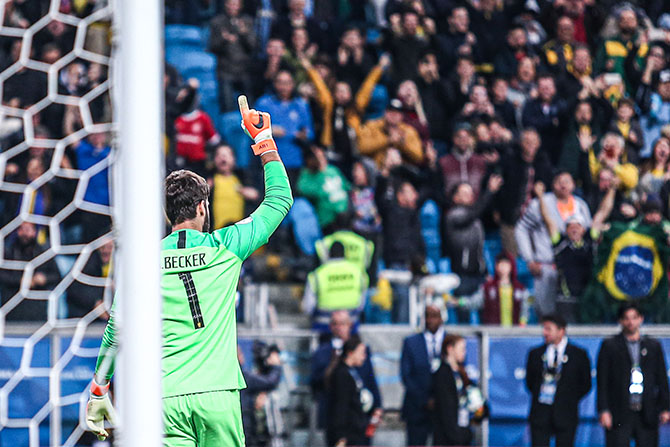 Bramkarz Brazylii, Alisson Becker, został bohaterem serii rzutów karnych w meczu z Paragwajem
Brazylijczycy są pod tym kątem dość mocno podzieleni. Powiedzieć jednak, że Copa ich nie interesuje to spore nadużycie. Narzekają, nie wypełniają stadionów, ale oglądają. To trochę tak, jak było z reprezentacją Polski przed erą selekcjonera Adama Nawałki. Każdy psioczył, ale i tak włączał telewizor lub szedł na stadion owinięty biało-czerwoną flagą.
Tajniak ISIS i telefon w biuście
– Wow, przyjechałaś z Polski specjalnie na Copa America? Nieźle – zagadnęli mnie siedzący obok fotoreporterzy przed meczem w Porto Alegre. Rozmowa nawiązała się z jednym, a chwilę później zlecieli się kolejni ciekawi mojej obecności. – Jestem Argentyńczykiem, ale nie lubię Messiego – przedstawił się Pedro, który mógłby z powodzeniem zostać tajniakiem w ISIS, biorąc pod uwagę jego wygląd. Pozostałych trzech nie mówiło ani słowa po angielsku. Pedro mieszkał trochę w New Jersey, stąd jego znajomość większej liczby języków niż tylko portugalskiego czy hiszpańskiego. Przyjął więc funkcję tłumacza. – Ten gość to policjant, który tez robi zdjęcia, ten jest darmozjadem, a ten prosi, żebyś powiedziała cos po polsku – wyrzucił z siebie z rozbrajającą szczerością.
Argentyńczyk aż do pierwszego gwizdka opowiadał mi o kulisach swojej pracy i południowoamerykańskim światku show-biznesu. – Nie zdziw się, jak w pewnym momencie wszystkie obiektywy zwrócą się ku jednej kobiecie z Paragwaju. Kiedyś zasłynęła tym, że ktoś zrobił jej na stadionie zdjęcie, jak wykładała sobie telefon między biust. Od tej pory jest gwiazdą. Okładki kolorowych magazynów, rozbierane sesje zdjęciowe – mówi. Hmm czy to nie brzmi znajomo? Chwilę później narzekał mi już na fotografa reprezentacji Argentyny. – Gość wcale nie jest jakiś wybitny. Raz opublikował zdjęcie z treningu, na którym Messi siedział na piłce. Środek dnia, pełne słońce, a na fotce ziarno. Uwierzysz? Jak to możliwe? – dziwi się.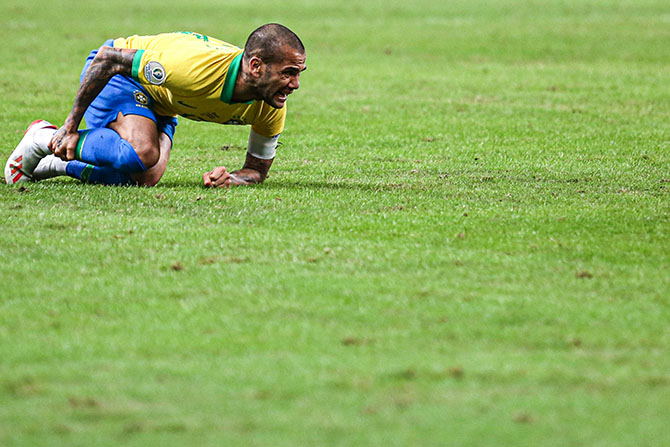 Daniel Alves, kapitan Brazylijczyków, rozegrał znakomity mecz półfinałowy przeciwko Argentynie
Brazylijczycy przez większą część meczu z Paragwajem walili głową w mur. W żaden sposób nie mogli przebić się przez solidną paragwajską obronę, a gościom było to na rękę. Chcieli doprowadzić do rzutów karnych, bo tylko w tym upatrywali swojej szansy. Tak też się stało. Jak dobrze, że w Copa America nie ma dogrywek. Wymęczony awans do półfinału po serii rzutów karnych nie oczarował jednak – wiadomo – brazylijskich kibiców. Ale po półfinale otrzymali pełne rozgrzeszenie. 2:0 w świętej wojnie z Argentyną. Czy trzeba dodawać coś więcej? Dla Canarinhos tegoroczna Copa America to istna sinusoida. Wygrane po dobrych meczach przeplatane bezbarwnymi remisami. Przed nimi niedzielny finał z Peru. Z tym Peru, które parę dni wcześniej rozbili 5:0 w Sao Paulo. Brazylijczycy nie wyobrażają sobie innego scenariusza niż efektowne zwycięstwo. Efektowne. Po 1:0 nikt nie upije się ze szczęścia.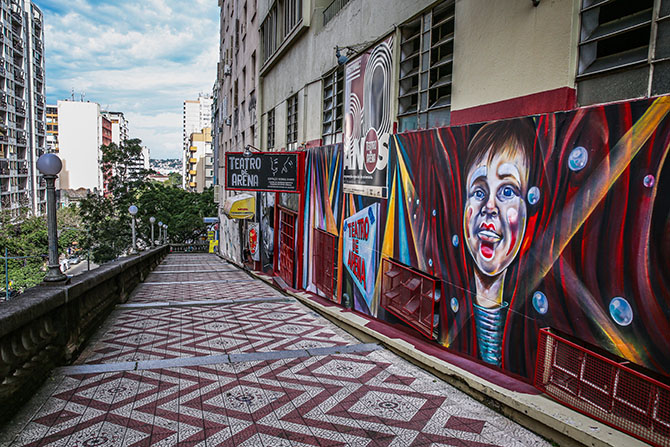 Jedno z ładniejszych miejsc w Porto Alegre