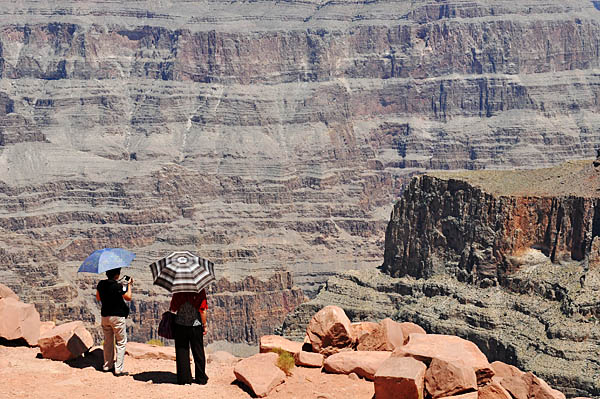 Pół dnia poświęcone na zobaczenie Wielkiego Kanionu to o jakieś pół tygodnia za mało. Niestety, tak to jest, jak się jedzie z wycieczką. A chińską to już w ogóle… Pomyślałam, że skoro lecę na zachodnie wybrzeże sama, to lepiej i łatwiej będzie się podpiąć pod jakąś grupę. Przynajmniej na trochę. Plusy? Mniejsza szansa na zgubienie się, nie trzeba myśleć o transporcie i jest się do kogo odezwać. Negatywy szybko je jednak przesłoniły. Wszystko w biegu, o nieodpowiednich dla fotografowania porach dnia i generalnie po łebkach.
Chińczyk przystawi do szyby w autokarze aparat i jest zadowolony. Siedział przede mną w autokarze starszy pan. Akurat on nie był z Azji a z Nowej Zelandii. Jego mała cyfrówka marki Sony na pewno zdążyła się zaprzyjaźnić z szybą do tego stopnia, że mogłyby razem na zakupy chodzić i o facetach plotkować. Cykał wszystko, jak leci. Podobno umiar tyczy się każdej czynności życiowej.
Ale miałam to, na co się pisałam. W sumie cztery dni podróżowałam z Chińczykami. Za dużo. Dwa sama. Za mało. Byłam nadal w Stanach, a w ciągu sześciu dób całkiem dobrze poznałam kulturę chińską i meksykańską. Chińczycy są jak mrówki w lesie. I nie chodzi o to, że jest ich za dużo. Chodzi o to, że jak nie masz z nimi do czynienia, to nie przeszkadzają. Gdzieś tam są i niespecjalnie cię interesują. Ale jak już wejdziesz pośród nich, to nie możesz się od nich odpędzić. Niby nic ci nie robią, ale nie da się ich nie zauważyć.
Jakoś ksenofobicznie mi to zabrzmiało. Nie, nie mam nic do nich. Po prostu zwracam uwagę na to, że to jednak specyficzna nacja ze specjalnymi odruchami i zachowaniami. I nie mam na myśli Azjatów, żyjących od dwudziestu lat za granicą. Tacy się nie liczą. Spotkałam takich. Małżeństwo z dwójką dzieci. Ona skończyła studia w USA i została. Ma własny gabinet dentystyczny. On jest inżynierem. Wyjechał do Stanów dwadzieścia lat temu. Zrzekł się obywatelstwa swojej ojczyzny. Opowiadał, jakie to dziwne uczucie, kiedy nie możesz legalnie wrócić do domu. Aby odwiedzić rodzinę, musi się starać o wizę. Mieszkają z żoną w Austin, w Teksasie.
Bardzo byli niezadowoleni, że trafili do autokaru, składającego się w 90 proc. z ich byłych rodaków. Już tak wrośli w kulturę amerykańską, że nie ma w nich nic chińskiego oprócz wyglądu. A wycieczka prowadzona była w dwóch językach – angielskim i chińskim. Przy czym przewodnik (chiński) mówił w swoim ojczystym języku przez pół godziny, a później niby to samo po angielsku powiedział w pięć minut. Słyszałam, że w chińskim musisz się bardziej naprodukować, żeby sklecić zdanie, no ale żeby aż tak?
To, że Chińczycy są nadpobudliwi i robią dużo zdjęć, wie każdy. Ja zwróciłam uwagę na fakt, że nigdy nie przepraszają, kiedy przypadkowo (bądź nieprzypadkowo) cię szturchną. Po prostu nic. Zero reakcji. Zdeptaliby i jeszcze dobili, gdyby się dało. Ciekawie było, kiedy przyszło do ustalania godzin, o których mamy być z powrotem w wyznaczonym miejscu. Początkowo byłam pod wrażeniem ich punktualności. Biłam własne rekordy na różne dystanse, żeby wszystko oblecieć i być na czas w autokarze. Zwykle udawało mi się stawić dwie, trzy minuty wcześniej. Oni zawsze byli minimum dziesięć minut wcześniej. I jak ktoś by się spóźnił, jestem przekonana, że nie poczekaliby.
Później rozmawiałam na ten temat z amerykańskim, dla odmiany, przewodnikiem. Powiedział coś zupełnie innego. – Wiesz, Chińczyków trzeba traktować po żołniersku i powtarzać za każdym razem, że autokar nie będzie czekał, bo oni zawsze się wszędzie spóźniają – opowiadał. Hmm… W kolejnych dniach, kiedy przewodnikiem był Amerykanin, faktycznie nigdy nie wyjeżdżaliśmy o czasie. A kiedy Chińczyk, zawsze. Interesująca zależność.
Cdn…
Na zdjęciu: jak z parasolami w największym upale, to muszą być Azjaci. Zachodnia część Wielkiego Kanionu, lipiec 2012.